MAGFest Report #1
on
January 8, 2013
at
12:14 am
First off let me say thanks so much to everyone at MAGFest, y'all put on an amazing show year after year and I know you strive to make each convention better than the last. From this sole cartoonists perspective, let me say you did doubly as awesome as last year!
Simply put, MAGFest XI was twice the show MAGFest X was! I know it's hard to top a shows' 10th anniversary that features Nobuo Uematsu's The Earthbound Papa's…but in so many ways this years convention blew the lid off X!
As I did with last year's MAGFest report, I'm going to break this thing up into 3 sections! Art, Friends and of course the Music!
The Friends section will cover the show floor from the awesome staff to attendees and cosplay, to scheduling and set-up, as well as the multitude of people and friends I only get to see each year at MAGFest!
The Music section wraps things up with what MAGFest is really all about: The concerts! This years lineup was superb and all the shows I went to were very well attended, well produced and well performed! From The OneUps to Armcannon, The Mega's and The Protomen along with special guest DJ Yuzo Koshiro, MAGFest rocked harder than ever!
THIS is the art section! What a year for Artists at MAGFest! The vendor hall had painters, cartoonists, craft makers, and art prints for sale EVERYWHERE! In terms of sales, I heard from almost every table I stopped at that sales this year were up double or more from last year's show, despite an oddly slow Saturday. This was absolutely the case at my table as both Jesse Durona and I easily beat our totals from last year and then moved over double! Had the table half-paid for by the end of our first half-day (Thursday) even! Seeing that we're both starting out, making back just table costs is usually an attainable goal, so doing double that this year for me in particular was an enormous step in the right direction, and a great confidence booster!
We both aspire to provide better products for better pricing each and every year and grow our artistic skills and profits to match. MAGFest is not only our best show of the year usually, it also provides us with the most inspiration, enjoyment and chance to connect with like-minded fans and fellow artists alike. It's almost sad to say MAGFest is the highlight of our year, but it definitely is, and provides us with the creative capital necessary to get through the entire year!
But enough about us, let's talk about some of the other amazing artists I had the brief chance to meet, see again, or discover for the first time!
If we're voting on the prettiest booth girls at the show, Danielle Sylvan Dernoga just might win. She also won my attention for her stunning digital paintings and illustrations. Her style is sort of a nice mixture of realism with the fantastic and just a hint of Disney. Her work is very crisp and bright, using vibrant colors to put your attention where it needs to be. She doesn't work just digitally, however, offering caricature commissions in pen and ink with copic markers at the table on the fly. This is a good choice as she's very good at rendering recognizable faces! While some of her compositions seemed a bit stiff, at 19, she's got a lot of talent and a lot of awesome art ahead of her! Hope to see her at MAGFest XII!
My only true impulse buy of the show was Guilded Age Volume One from T. Campbell and Phil Kahn who were tabling directly behind my table the entire time, yet I didn't get around to actually meeting them until the last night! Shock and awe, and now disappointment are settling in as it turns out their comic is not too dissimilarly inspired as my budding fantasy adventure, Citadel. T Campbell also was a student of James Sturm, founder of my Alma'matter the Center for Cartoon Studies! While Guilded age is inspired by World of Warcraft, and my inspiration comes from more a Final Fantasy style background, fantasy stories are all cut from some similar cloth. Guilded Age definitely puts humor before anything else, and is made pretty clear that the early goings were wrought with Penny Arcade envy! As the stories go on tho, you can see it shaping into it's very own sort of thing as the wild band of adventurers drive things forward. While no longer a part of the project, Erica Henderson is no longer the mainstay artist on the book, this volume is all her work, including a bonus story squeezed out before she left for other commitments. In full color, it's definitely worth the 20 smackers price tag!
I was also introduced, albeit very briefly, to the work of Heidi Arnhold. This Atlanta, GA cartoonist and illustrator is another SCAD grad who's done some pretty amazing sequential work for Tokyopop on The Dark Crystal, Star Trek Uchu and upcoming work on a Fraggle Rock anthology! She has a very excellent design sense in her fan art posters and prints and her sequential pages are wrought with detail, fine crisp lines and impressively smooth but simple layouts. I definitely didn't know such a thing as a Dark Crystal comic existed, but I'm absolutely going to grab a copy now, knowing such a talented illustrator is bringing it to life! P.S. – Her husband does a podcast!
K-BO! Kevin Bolk was once again in attendance at MAGFest and man did he have it in high-gear this year! Guy was doing commissions basically non-stop and I hear he's got quite the list for when he gets home! Kevin is a fine fellow who does the popular web comic "It Sucks to Be Weegie" about Mario's not so popular little brother. He also has some fantastic slice-of-life/auto-bio comics that are poignant, funny and in his fantastic made-for-animation style! Kyle is also part of the inspiration behind my table-mate Jesse DuRona's Despondent Mega Man! It was very good to see him again and hope to catch up again soon!
Other creators I saw at the show in-passing as I didn't have very much time to get away from my own table:
Julia Lichty, a fantasy, sci-fi, gothic illustrator and cartoonist who mixes a lot of traditional and digital elements together to create some pretty striking and darkly romantic pieces.
Sara Ho, who's "Be the Leaf" Avatar: The Last Airbender print was everywhere at the show, super cute and super popular! Her bubbly style brought some downright fun to the show floor!
Need a dose of hyper chibi cuteness? Tehnoangel Studios has you covered with buttons and prints and all sorts of neat goodies!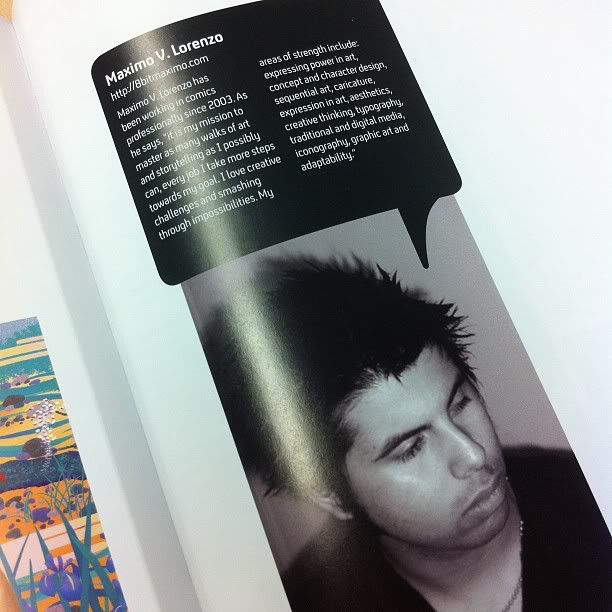 He didn't table this year but my buddy Maximo V Lorenzo aka 8-Bit Maximo was there to party hardy and it was super good to see him and his bitchin' scarf again!
Well, that about wraps up the artists section of this years MAGFest report! Lots of inspiring and jaw-dropping art this year. Here's hoping Jesse and I can really step-up our game in 2013 now and really bring it for 2014's MAGFest XII!
OH! One last reminder: Starting every Tuesday now there will be a new page of Citadel Chapter 1 as I re-boot the story and move forward with the comic! Also, Thursdays will feature a new sketch-card, starting with the ones from MAGFest! Plenty of new content to be had in 2013!
-RD
All art and Photos are © their respective creators. Check them out and support them!